Heaven came to Santiago, Chile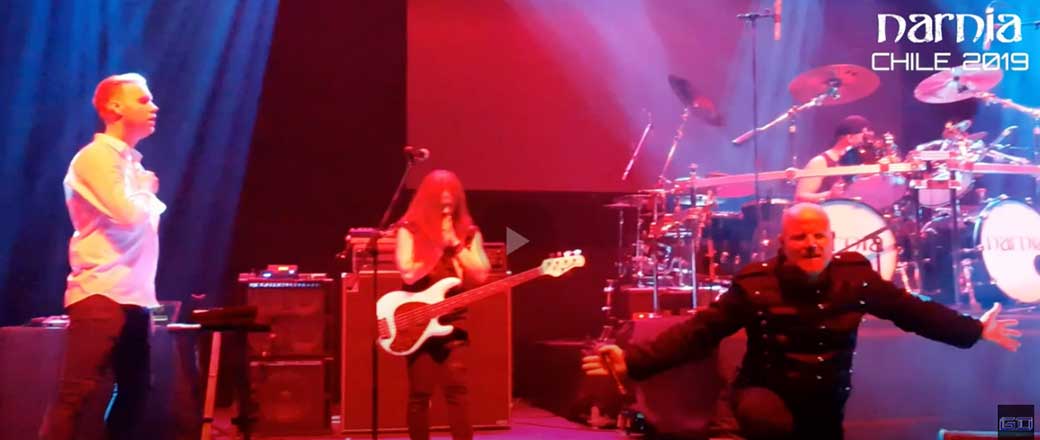 We performed the song 'The War That Tore the Land' for the very first time in Santiago, Chile, September 12, 2019. Something really happened when we played that song, and several people told us afterwards. We have shared some of the testimonials received here.
Also we felt God's mighty presence in this song. You can see a live clip from this very moment below.
"Hi Narnia!
I would like to tell you something you may like.
The other night, during your concert in Chile, a friend that I met at the airport waiting for you, told me something that happened after your show in Santiago.
Once your show was finished, he met a non christian girl outside the theatre. There, she told him that she was constantly going to rock/metal shows at Teatro Caupolicán, even if she didn't know the band. Sadly, most of the time after the concerts (of any band), she used to feel really bad and once she got home she consumed drugs almost everytime..
However, last thursday, she attended at your concert, not knowing the bands would be there (Narnia and Stryper).
In the middle of "The war that tore the Land" (song that she named 'the hallelujah one'), she told that she felt something different in her heart, like a giant hug maybe.. and she noticed that both the band and the audience were sharing a special atmosphere…
After the show she told my friend that she wanted to have that "thing" that the rest of the audience were experiencing too.
So, together with some other friends reunited there, told her that she needed to accept Jesus, cause he was calling her.
So, (to make this story a little bit shorter), she finally accepted Jesus!!
We agreed to keep praying for her so Jesus keeps revealing to her heart! I felt so good and I thank God once I knew this experience.
God really works in so many different forms and ways, that He really can amaze us.
So.. thank you NARNIA, not only for an incredible show, but also because God really use you!
I know that I mentioned this somewhere, but again, I have been praying for all of you, so God keeps blessing not only me, but also that He keeps turning people's eyes to the king of kings!"
"Dear Christian, I did not return home the same way I arrived at the show. God touched me through you. Thanx"
"That moment was powerful and beautiful, as all of us who were there were able to adore and understand that this band not only has good metal songs but is also capable of giving themselves a moment to adore and humble themselves before King Jesus Christ."
"Please. Come back to play here when you can. We are fans of the band and we love you in Christ. You have greatly blessed our lives once again, especially my son when he heard "the war that tore the land". I am sure God spoke to him in this song. The Holy Spirit was on the stage. Keep it up, humble and serving the Lord with your heart, we know it has been so."